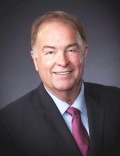 Ken Taylor is a seasoned real estate Broker with over 30 years experience in the industry. As the prior co-owner of a major Central Coast real estate franchise, Ken supervised thousands of real estate transactions and trained hundreds of other REALTORS® as Broker, office manager, sales trainer, and director of print and internet marketing. He sold his interest in the company in 2005 and remained a top-selling agent for an additional 8 years, always in the top 10% in production year after year. Ken has personally listed and sold hundreds of homes on the Central Coast in all kinds of markets – good and bad.
Striving to always remain flexible and adaptable, his goal is to provide the best service possible with the least amount of inconvenience for those he serves. With his reputation for fair-play, knowledge of the industry, a positive work ethic, and most importantly, his love for his wife and their four children, he is a true leader in every aspect of the word.
Interests: Travel, history, hiking, time with family, and an occasional poker game with old friends.
CalBRE 00815882